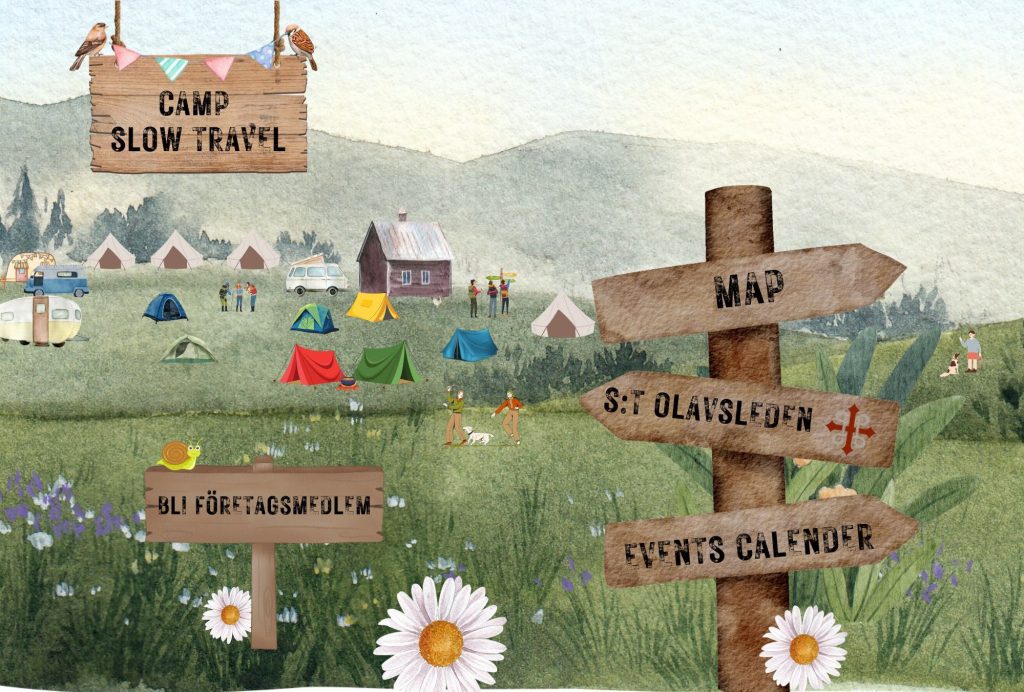 Hej och välkommen till Camp Slow Travel!
Välkommen till vår helt egna community-plattform på slowtravel.se!
Här är det medlemmarna i Camp Slow Travel som sätter agendan och bestämmer innehållet. Ingen irriterande reklam som stör oss, inget tråkigt tjat om någon annans produkt eller tjänst. Det är som att ha vår egen privata Facebook utan alla dess nackdelar! Vi är inte ett tech-företag, utan en ideell förening som bara existerar för våra medlemmar.
Vår medlemsdel består av camps och campfires, forum för både privatpersoner och företagare. Här bygger vi upp vår egen communityplattform för allting slow – slow travel och slow living. Hos Camp Slow Travel anammar vi en slow livsstil som låter oss uppleva mer av livet, fast i en lugnare och mer hållbar takt.
Vill du också ta det lugnt, leva mer hållbart och hitta harmoni i livet? Då är du mer än välkommen att följa med oss på resan! Bli medlem idag och få tillgång till våra grupper & forum. Dela dina evenemang i vår evenemangskalender och hjälp oss att göra CAMP SLOW TRAVEL till den ultimata plattformen för oss som älskar att ta det lugnt och uppleva mer!
Vi tror att samarbete och gemenskap är nyckeln till att göra världen till en bättre plats för alla. Ju fler vi blir, desto mer värde kan vi skapa tillsammans här på Camp Slow Travel. Vi når vårt mål lättare genom att inspirera till en ny och mer hållbar form av resande – där vi tar det lugnt och upplever mer på vägen.
Vi är också glada att presentera vårt första lokala projekt, Slow Travel Pilgrim, som fokuserar på Sveriges pilgrimsleder. Först ut är S:t Olavsleden från Selånger till Trondheim. Kan det bli mer slow travel än så?
Kanske tänker du att allt detta låter dyrt? Tänk om! Vi vill att alla ska ha råd att vara med, så vi har satt priset så lågt vi bara kan – endast 100 kronor per år. Och om du väljer att stötta oss under 2023 kommer du aldrig behöva betala mer än så, även om vi höjer priset senare.
Vi hälsar dig varmt välkommen till vårt slowtravel.se community. Tillsammans kan vi skapa en bättre och mer harmonisk värld!
[tagembed widgetid 77994]
Welcome to our very own community platform at slowtravel.se! 
Here, it is the members of Camp Slow Travel who set the agenda and determine the content. There is no irritating advertising to disturb us, nor any tedious chatter about someone else's product or service. It's like having our own private Facebook, without all its disadvantages! We are not a tech company, but rather a non-profit organization that exists solely for our members.
Our member section consists of camps and campfires, forums for both private individuals and entrepreneurs. Here, we are building our own community platform for all things slow – slow travel and slow living. At Camp Slow Travel, we embrace a slow lifestyle that allows us to experience more of life, but at a slower and more sustainable pace.
Would you like to take it easy, live more sustainably, and find harmony in life? Then you are more than welcome to join us on this journey! Become a member today and gain access to our groups and forums. Share your events on our event calendar and help us make CAMP SLOW TRAVEL the ultimate platform for those of us who love to take it easy and experience more!
We believe that collaboration and community are the keys to making the world a better place for everyone. The more we grow, the more value we can create together here at Camp Slow Travel. We can achieve our goal more easily by inspiring a new and more sustainable form of travel – one where we take it easy and experience more on the way.
We are also pleased to present our first local project, Slow Travel Pilgrim, which focuses on Sweden's pilgrim trails. First up is the St. Olav Trail from Selånger to Trondheim. Can it get any more slow travel than that?
Perhaps you might think that all this sounds expensive? What if it isn't? We want everyone to be able to afford to join, so we have set the price as low as we possibly can – only 100 kronor per year. And if you choose to support us during 2023, you will never have to pay more than that, even if we raise the price later.
We warmly welcome you to our slowtravel.se community. Together, we can create a better and more harmonious world!